These vegan oatmeal cranberry cookies are the best! They're soft and chewy with slightly crispy edges, and super easy to make without butter or eggs. Ready in under 30 minutes!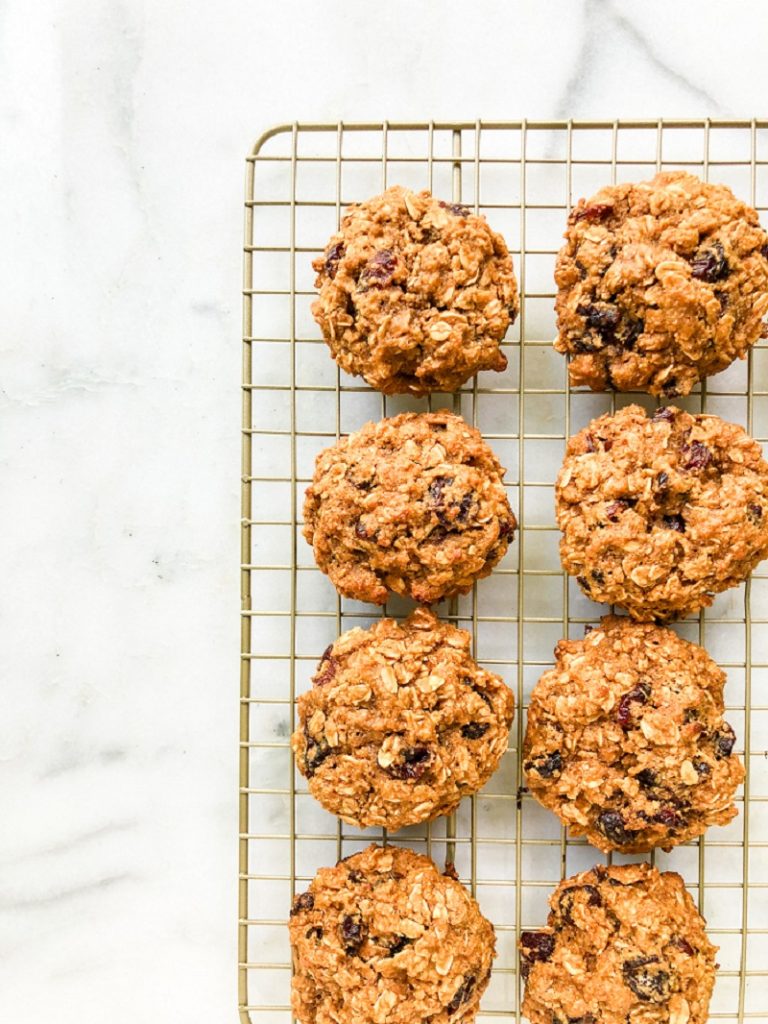 These Chewy Vegan Oatmeal Cranberry Cookies are becoming a staple in our house. Jonah has been requesting them on a regular basis, so I thought I would finally share the recipe with you all! These are vegan, gluten-free, soft, chewy, cinnamony, and bursting with sweetness from the cranberries.
I have such fond memories of my dad baking a batch of his famous oatmeal raisin chocolate chip cookies every weekend. They were out of this world delish! You can definitely use raisins, chocolate, nuts or other dried fruit in this recipe. Jonah LOVES cranberries, so that's what I like to use.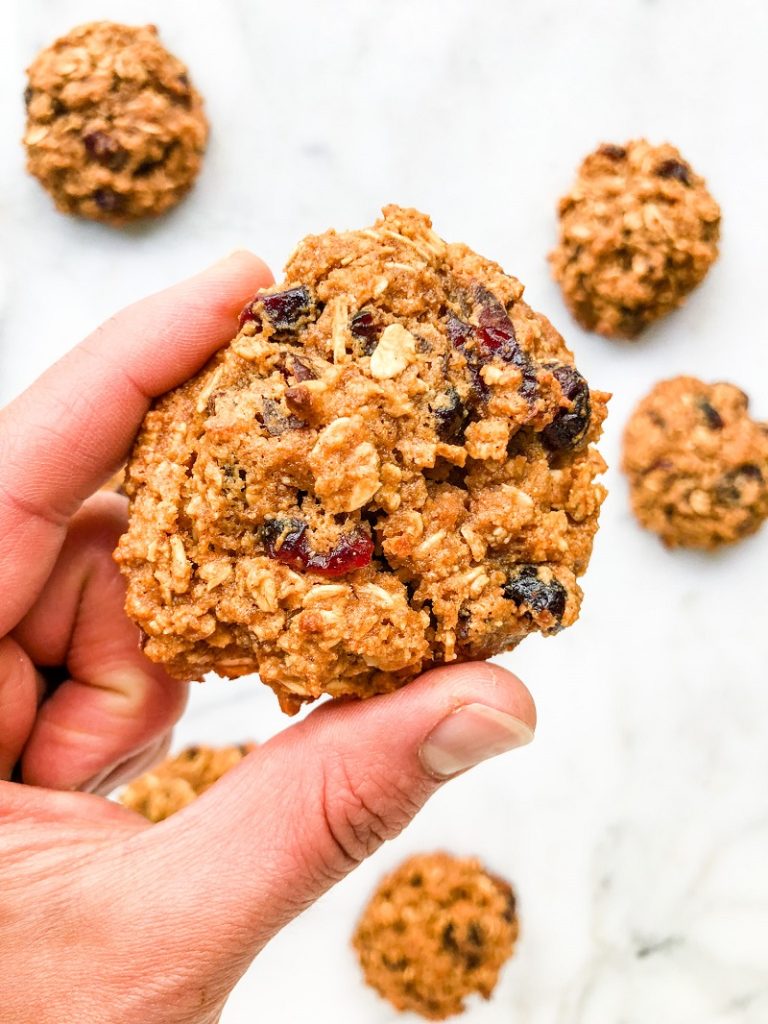 WHAT ARE THE BEST SWEETENERS TO USE?
1. Coconut Nectar:
Raw coconut nectar, or "coconut palm nectar" comes from the sweet sap that is produced from tapping the thick stalks or stems of the flowering coconut blossom. This watery sap is further evaporated at low temperatures, forming a pourable syrup that is raw, low glycemic as well as nutrient-rich. Contrary to what you may think, it doesn't taste like coconut; it tastes very similar to maple syrup. I placed coconut nectar at the top of the list because it contains low amounts of glucose, sucrose, and fructose (about 10%), but it is also high in the polysaccharide inulin, a prebiotic fiber that aids in the process of digestion.
2. Maple Syrup:
Maple tree syrup, or more accurately sap, has been used for centuries. When used in appropriate amounts, maple syrup nutrition benefits can include the ability to lower inflammation, supply nutrients and better manage blood sugar. Compared to refined (or "table") cane sugar that offers absolutely no nutrients, maple syrup contains some important antioxidants and minerals like zinc and manganese.
3. Honey:
Honey can be tricky…most of the honey consumed today is processed honey that's been heated and filtered since it was gathered from the hive. Unlike processed honey, raw honey does not get stripped of its incredible nutritional value and health powers. It can help with everything from low energy to sleep problems to seasonal allergies, especially when it's local honey. Raw honey contains natural sugars (80 percent), water (18 percent), and minerals, vitamins, pollen and protein (2 percent). It's even said that honey is"the perfect running fuel." It provides an easily absorbed supply of energy in the form of liver glycogen, making it ideal for energetic morning starts and as a pre- and post-exercise energy source.
Experiment with different recipes to see if you prefer the flavor of one over the other! All three are much healthier options than corn syrup, so you can't really go wrong with any of them.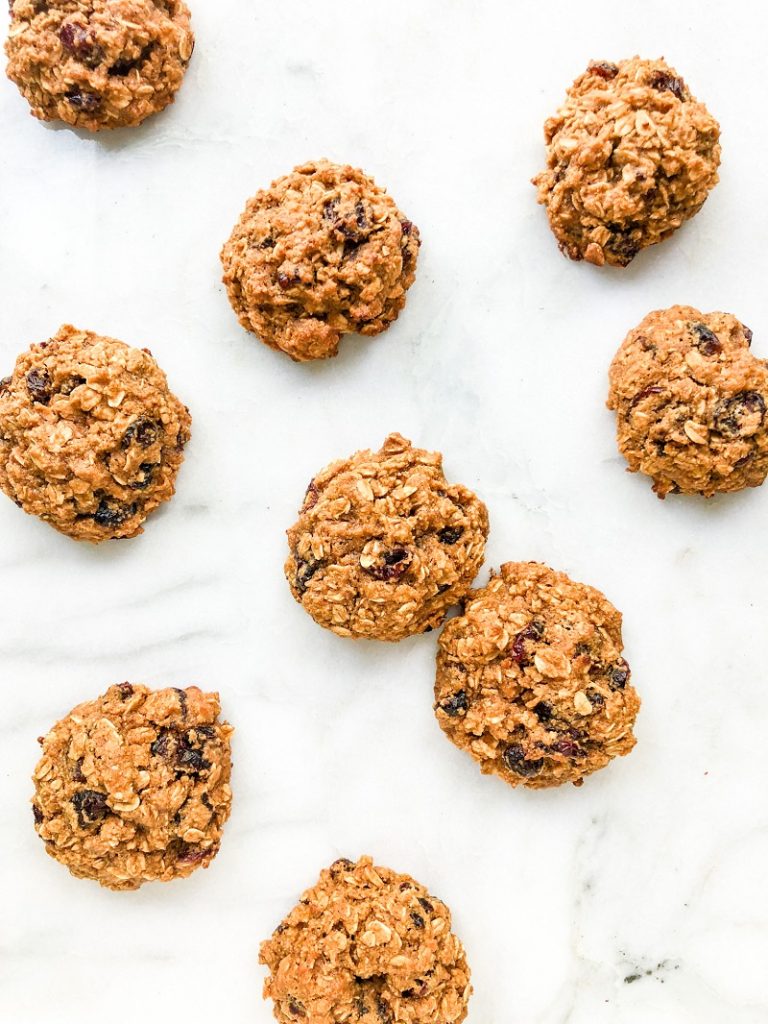 If you try this recipe, leave a comment below! Ready for more? Subscribe to my newsletter for recipes sent straight to your inbox or follow along on Instagram!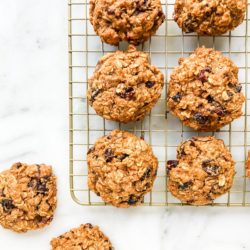 Chewy Vegan Oatmeal Cranberry Cookies
These cookies are vegan, gluten-free, soft, chewy, cinnamony, and bursting with sweetness from the cranberries. Made with simple ingredients and sweetened with maple syrup.
Ingredients
1

cup

Gluten-Free Rolled Oats

¾

cup

Almond Flour

1 ½

tsp

Baking Powder

1 ½

tsp

Cinnamon

2

Tbs

Coconut Oil or Applesauce

1

tsp

Vanilla Extract

½

cup

Maple Syrup or Coconut Nectar

1

Flax Egg

1 TBS ground flax seed + 2.5 TBS water – let sit for 10 min to form a gel

½

cup

Dried Cranberries
Instructions
Prepare flax egg by mixing 1 TBS ground flax meal with 2.5 TBS water. Set aside for 10 minutes to form a gel-like substance.

Mix together oats, flour, baking powder, and cinnamon in a medium-sized bowl.

In a separate bowl, whisk together the applesauce/coconut oil, vanilla, flax egg, and coconut nectar.

Add dry ingredients to the wet, stirring until incorporated. Fold in the dried cranberries.

Chill the dough for 30 minutes in the refrigerator. This will help them bake! You don't want to skip this step.

While the dough is chilling, preheat over to 325F and line a baking sheet with parchment paper.

Scoop out the dough into 12-14 balls on the cookie sheet, then flatten slightly.

Bake for 12-14 minutes. For best results, let cool for 5-10 minutes before transferring to a wire rack.
Notes
Store in an air-tight container.